ECOVINEGOALS - ECOlogical VINEyards GOvernance and Activities for Landscape's Strategies
Basic Info
Project Manager at ZRC SAZU

Dr. Mateja Šmid Hribar (2020 - 2021) , Dr. Primož Pipan (2022 - 2023)

Original Title

ECOVINEGOALS - ECOlogical VINEyards GOvernance and Activities for Landscape's Strategies

Acronym

ECOVINEGOALS

Co-Researchers

Mateja Šmid Hribar, PhD

,

Primož Pipan, PhD

,

Maja Topole, PhD

,

Mauro Hrvatin, PhD

Project Duration

1 March 2020–31 August 2022

Leading Partner

Project Manager

Financial Source

ARRS - Javna agencija za raziskovalno dejavnost


Interreg Adrion




Partners

Municipality of Bar

,

Mediterranean Agronomic Institute of Chania

,

Business Development Center Kragujevac

,

Foundation Business Start-up Center Bar

,

Agency for rural development of Istria Ltd. Pazin

,

Chamber of Agriculture and Forestry of Slovenia, Institute of Agriculture and F…

,

INFORMO - association for the promotion of employment, vocational training and …

,

Autonomous Province of Trento
Description
In ADRION area the intensive management of viticulture can lead to negative effects on soil, water and air quality, biodiversity and ecosystem services and cause significant changes of fragile habitats and traditional landscapes. ECOVINEGOALS tackles the challenge of viticulture intensive systems and its negative effects. The project helps develop strategies, action plans, tools and capacities for agro-ecological transition of viticulture areas towards low input and low emission management systems. 
The main objectives:
The main general objective of this project concerns »To develop strategies, action plans, tools and capacities for the agroecological transition of viticulture areas to low input and low emission management systems, and for reconciliation of production, social, environmental and landscape needs in fragile wine-growing areas of the ADRION area«. In detail, this objective is to achieve a shared understanding among the partners of the countries involved, of the concepts and methods able to support the transition of conventional viticultural management systems to agroecological systems. That is, towards systems that protect the environment, enhance the landscape, prevent climate changes resulting from the greenhouse effect and prevent social conflicts on how to use rural land. It also proposes the definition and construction of shared strategies, action plans and tools, able to guide and accompany the agroecological transition of the fragile areas indicated. Strategies and tools will pay particular attention to the enhancement of habitat, landscape and quality of life in areas of intensive wine growing. 
Photo of vineyard in Štanjel, Slovenia: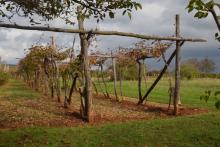 Results
The expected outputs:
As main outputs, the project elaborates 3 different transnational strategies: 
-    one focused on agro ecological cultivation systems to support their diffusion in the fragile wine-growing areas of ADRION regions; 
-    one aimed at reconciling viticulture with other competing land uses and with the conservation of landscapes and habitats; 
-    one aimed at applying participated territorial governance processes to improve the stakeholders' capacity to use negotiation and conflict resolution models for environment and landscape protection. 
 
The expected changes are achieved by acting through pilot initiatives and local action plans. These guarantee to share technical knowledge, evaluate ecosystem services coming from the agro-ecological approach and strengthen the participatory capacity of policy makers. The transnational and interdisciplinary dimension of the partnership allows to achieve long-lasting results such as the constitution of a new innovative transnational network (AVINE) in the Adrion area and the participation to already existing EU networks that support the definition of project main outputs referred to agro-ecological practices, landscape and habitat protection, active participation and social awareness. Ultimately, the project contributes to ongoing implementation at EU and national level of EU policies such as the EUSAIR, the Common Food Policy and Bioeconomy Strategy, as well as the priorities defined in the EU Commission Staff Working Document FOOD 2030.
Publication: Viticulture in the Vipava Hills
Keywords
Adriatic-Ionian area
landscapes
viticulture
agroecology transition
ecosystem services