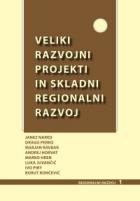 Title:
Edited by:
Other authors:
Year:
Compilation:
Keywords:
Language(s):
Description
In order to reduce the development gap separating it from the most developed European countries, Slovenia faces numerous developmental challenges. On the one hand, it is trying to promote competitiveness and innovation to stimulate economic growth, and on the other hand it is using various measures to ensure more even development across its entire territory. In the past, the main efforts focused on effective inclusion in the EU and the Eurozone, whereas now seeking domestic reserves to establish and strengthen Slovenia's position among the most developed countries is at the forefront. This demands an important shift in thinking because achieving developmental goals is no longer in the domain of others or dependent on others, but is the result of Slovenia's own decisions, knowledge, and resourcefulness. This must be taken into account, especially at the beginning of a new program period and when preparing new strategic development documents.
Therefore, this book ('Major development projects and harmonious regional development') focuses on one of these documents—that is, the Resolution on National Development Projects for 2007–2023—and its development challenges and influences on harmonious regional development. In addition, traditional regional policy and development topics are also discussed. First of all, the introductory chapters present the resolution as a whole, followed by articles discussing its individual parts (i.e., planned projects) and explaining them from various perspectives. The majority of authors are in favor of the resolution, but discussions to date have raised certain issues that cannot be ignored. It can be established that the resolution represents an implementation of the predominant guideline of Slovenia's development over the past several decades—that is, polycentric development—by focusing primarily on the development of urban centers, from which beneficial effects should also spread to the countryside. It hence follows the findings of experts claiming that dispersed assistance is rarely effective. In addition, through livelier developmental dynamics and strengthened development potentials, individual development centers can more easily compete on global markets. However, the resolution ignores certain key aspects, such as the issue of public participation in planning, energy efficiency, sustainable development, and so on. Other articles dealing with harmonious regional development primarily focus on two topics: the role of knowledge in regional development and the importance of natural factors in regional planning. This last aspect is especially important because it is often ignored in development planning.
Table of content
Predgovor
Janez Nared: Uvodnik
Robert Špendl, Igor Gabrenja: Zunanji učinki (eksternalije) nacionalnih razvojnih projektov
in možnosti za pokrivanje eksternih stroškov
Milena Škrl-Marega: Načrtovanje z ljudmi ne za ljudi!
Dušan Plut: Sonaravna ocena nacionalnih razvojnih projektov Slovenije (2007–2023)
Marjan Ravbar, Nika Razpotnik: Geografska analiza investicij – pasti in izzivi na poti
uresničitve nacionalnih razvojnih projektov v Sloveniji
David Bole: Analiza mest in urbanega omrežja z vidika regionalnega razvoja v Sloveniji
Janez Nared: Model razporeditve pričakovanih delovnih mest kot instrument za načrtovanje
in vrednotenje projektov: primer Resolucije o nacionalnih razvojnih projektih za obdobje
2007–2023
Dušan Vodeb, Davorin Rogina: Izgradnja gospodarskega središča NOORDUNG na Koroškem
Armand Faganel: Otok kot priložnost za trajnostni razvoj slovenske obalne regije
Aleš Smrekar, Mimi Urbanc, Drago Kladnik, Mateja Breg, Bojan Erhartič, Janez Nared, Franci
Petek: Kras kot razvojni potencial: v iskanju ravnovesja med varovanjem in razvojem
Franci Petek, Drago Kladnik, Bojan Erhartič, Janez Nared, Aleš Smrekar, Mimi Urbanc,
Mateja Breg: Nordijski center Planica v luči potreb in možnosti za njegovo uresničitev
Matej Gabrovec, Marjan Lep: Trajnostna mobilnost in regionalni razvoj
Ljubo Žerak: Veliki železniški projekti, priložnost za nadaljnji razvoj Slovenije
Marko Kristl, Jure Miljevič: Razvoj scenarijev pri določanju poteka velikih infrastrukturnih
projektov v prostoru
Kristina Gorišek: Vladni projekt »Trajnostna energija in ekonomija vodika« z vidika
trajnostnega razvoja v slovenskih regijah
Marjeta Zupan, Simon Kerma: Gradnja novih hidroelektrarn kot dejavnik regionalnega
razvoja – primer Posavja
Igor Strmšnik: Upravljanje z razvojem po oblikovanju pokrajin
Alma Zavodnik Lamovšek: Regionalni razvoj v razmerah razvitih informacijskih družb
Milena Bevc, Sonja Uršič: Migracije kot dejavnik razvoja slovenskih regij
Milena Bevc, Sonja Uršič: Kapital znanja v Sloveniji po regijah – sintezna ocena stanja in
trendov
Petra Grah, Vito Bobek: Vloga ključnih projektov v razvojni strategiji mesta
Mimi Urbanc, Jerneja Fridl: Ozaveščanje o prostoru kot pomemben dejavnik izobraževanja
za trajnostni razvoj; primer projekta R. A.V. E. Space
Elizabeta Zirnstein, Darijan Krpan: Ustrezen kadrovski potencial – pot v inovativno regijo
Romina Rodela, Mateja Šmid: Učeče regije: vpliv socialnega kapitala na ustanovitev
Krajinskega parka Goričko
Katja Klančišar: Vrednotenje regionalnih razvojnih politik: primer vrednotenja okoljske
politike Zasavja
Blaž Komac, Miha Pavšek, Matija Zorn: Regionalni razvoj in naravne nesreče – preventiva ali
odpravljanje posledic?
Drago Perko: Relief, regionalni razvoj in regionalne razlike v Sloveniji
Tomaž Prus, Franc Lobnik: Pomen vrednotenja tal za skladen regionalni razvoj
Anka Lisec, Franc Lobnik: Trg in tržna vrednost kmetijskih zemljišč v Sloveniji
Ana Vovk Korže, Danijel Vrhovšek: Ekoremediacije kot trajnostne metode za varovanje
okolja
Dejan Jelovac, Dobran Juričan: Kodeks podjetniške kulture za skladen regionalni razvoj
Staša Mesec: Sodelovanje Slovenije v programih Evropskega teritorialnega sodelovanja
INTERREG IVC
Publishing House
Založba ZRC
ISBN
978-961-254-014-2
Specifications
paperback • 16,5 × 23,5 cm • 324 pages