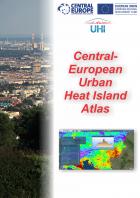 Title:
Authors:
Year:
Keywords:
Language(s):
Description
Atlas mestnih toplotnih otokov Srednje Evrope (CE UHI Atlas) je spletno orodje za predstavitev različnih dejavnikov, ki vplivajo na pojav mestnega toplotnega otoka. Atlas je nastal v okviru projekta Urban heat island – razvoj in izvajanje blažilnih in prilagoditvenih strategij in ukrepov za ukrepanje zoper pojav mestnega toplotnega otoka na območju Srednje Evrope. Mestni toplotni otok je mikroklimatski pojav, ki se pojavlja v urbanih območjih. Zanj je značilno znatno povečanje temperature v urbanih območjih, kar povzroča večjo temperaturno razliko med mestnimi in okoliškimi podeželskimi območji. Atlas sestavljajo naslednji podatkovni sloji: nadmorska višina, normaliziran vegetacijski indeks, temperature površja in zraka za značilna obdobja, zemljevid pokrovnosti tal in rabe zemljišč ter zemljevidi podatkov, ki so jih za posamezna mesta v Srednji Evropi posredovali projektni partnerji. Eden od namenov atlasa je tudi omejitev naraščanja temperature v mestih, saj je poznavanje značilnosti območij temelj za prilagoditev ustreznih kratkoročnih in dolgoročnih ukrepov za zmanjševanje učinkov, preprečevanje tveganj in ustrezno upravljanje.
The Central-European Urban Heat Island Atlas (CE UHI Atlas) is a web tool for presentation of different factors influencing urban heat island phenomena. It is a result of the UHI project – Development and application of mitigation and adaptation strategies and measures for counteracting the global urban heat islands phenomenon. The UHI is a microclimatic phenomenon that occurs in the metropolitan areas. It is characterized by a significant increasing of temperature in urban areas with respect to the surrounding rural areas. These areas of higher temperatures are termed 'urban heat islands'.  
The Atlas presents different factors influencing the urban heat island, such as elevation, vegetation status, land use, and settlement density. The atlas consists of the following digital layers: elevation, normalized difference vegetation index, air and land surface temperature, land cover and land use, night scene, and project partner data.
The CE UHI Atlas is a tool for considering the critical urban areas in Central Europe and can be used to limit the temperature increase in cities by establishing proper short-term and long-term mitigation, risk prevention and management activities.
Publishing House
Založba ZRC
ISBN
978-961-254-481-2
Specifications
internet publication • flash