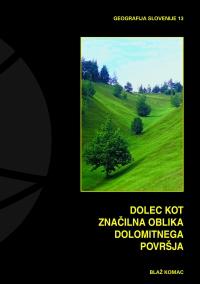 Dolec kot značilna oblika dolomitnega površja.
Author: Blaž Komac
Publishing House: Založba ZRC
Year: 2006

In this book a dell, a characteristic relief form in Slovenian dolomite regions, is described. A dell is a trough-shaped valley or a flat floored small valley on dolomite areas.
The chapter about basic characteristics of dolomite relief and basic characteristics of trough-shaped valleys is followed by extensive chapter about morphological characteristics of a trough-shaped valleys, with special regard to dell longitudinal section analysis. Based on that the morphological typology of trough-shaped valleys is stated. The book also deals with the dell genesis. Trough-shaped valleys are polygenetic convergent relief forms as they may exist on different bedrock and are shaped by different geomorphic processes. Recent intensive geomorphic processes have been proved by qualitative (geomorphological mapping) and quantitative (absolute dating) methods. The assumption of the importance of recent geomorphic processes was confirmed by geoelectrical measurements as well.
---
Author

Publishing House

Založba ZRC

Publisher

ISBN

961-6568-70-1

Year

2006

Compilation

Language(s)

Specifications

hardback 17 × 24 cm 172 pages 107 pictures, 38 plates

E-publications

Permalink