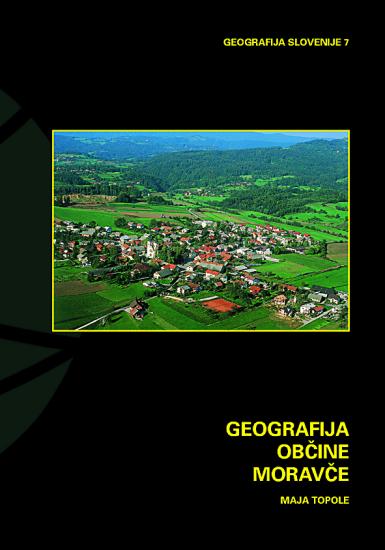 Geografija občine Moravče.
Author: Maja Topole
Year: 2003

From the viewpoints of regional and agrarian geography and regional planning the author systematically analyze all main natural features and many regional social factors of the municipality of Moravče: bedrock, type of relief, altitude, inclination, water conditions (including flood conditions), climate conditions (particularly insolation), soil and vegetation, land use, population, settlements, and economy. On the basis of the analysis, a detailed partition of the municipality into small homogenous units is made, three in the valley and four in the hills. The book also deals with the evaluation of the landscape from the viewpoint of individual types of agricultural land use; determines the suitability of areas for cultivated fields, meadows, and orchards; and considers the quality of locations from the viewpoint of settlement. The book concludes with recommendations for the most suitable land use and a survey of the current irrational use of land.
The synthetic maps and theme maps showing individual natural factors can be used to advantage in regional planning. Emphasis is placed on determining the interdependence of landscape factors and their joint influences, on the laws and causes governing individual phenomena, and on the comparison of microregions.
---
Author

Publishing House:

Založba ZRC

Publisher

ISBN

961-6500-06-6

Year

2003

Series

Language(s)

Specifications

hardback 17 × 24 cm 238 pages 184 colour pictures, 52 plates

E-publications

05. 12. 2019

Permalink