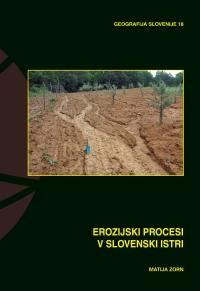 Erozijski procesi v slovenski Istri.
Author: Matija Zorn
Publishing House: Založba ZRC
Year: 2008

The book deals with erosion processes in the Slovenian part of Istrian peninsula. In the introductory chapters the fluvial-denudation relief in Slovenia, erosion processes, and their influential factors, as well as the extent of erosion processes in Slovenia and Slovene Istria are presented. The largest section of the book is devoted to the presentation of measurements of erosion processes in the Dragonja river basin. Measurements included soil erosion measurements (interrill erosion on three different land uses, rill erosion and wind erosion), measurements of rockwall retreat and movements of debris through an erosion gully, as well as chemical denudation in the river basin.
---
Author

Publishing House

Založba ZRC

Publisher

ISBN

978-961-254-099-9

Year

2008

Series

Language(s)

Specifications

hardback 17 × 24 cm 423 pages

E-publications

05. 12. 2019

Permalink