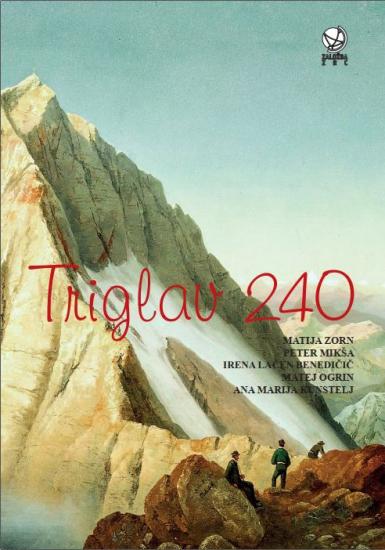 Triglav 240.
Edited by: Irena Lačen Benedičič, Ana Marija Kunstelj, Peter Mikša, Matej Ogrin, Matija Zorn
Publishing House: Založba ZRC
Year: 2018

The volume is dedicated to the 240th anniversary of the first documented ascent to Mount Triglav. It contains about thirty chapters that highlight new discoveries about Mount Triglav as a mountain, a myth and a symbol. Mount Triglav and its surrounding are presented from the geographical, historical, ethnological, as well as sports and mountaineering aspects.
---
Other authors

individual contributions

Anita Anželak

,

Manca Volk Bahun

,

Irena Lačen Benedičič

,

Herman Berčič

,

Janez Bizjak

,

Ljudmila Bokal

,

Kristjan Breznik

,

Alojz Budkovič

,

Stojan Burnik

,

Tadej Debevec

,

Janez Duhovnik

,

Matej Gabrovec

,

Primož Gašperič

,

Kristina Glojek

,

Dejan Grigillo

,

Miran Hladnik

,

Mauro Hrvatin

,

Blaž Jereb

,

Anže Krek

,

Matej Lipar

,

France Malešič

,

Miha Marolt

,

Saša Mesec

,

Jože Mihelič

,

Peter Mikša

,

Janez Mlinar

,

Nataša Mrak

,

Irena Mrak

,

Majda Odar

,

Marija Ogrin

,

Matej Ogrin

,

Miha Pavšek

,

Marija Mojca Peternel

,

Dušan Petrovič

,

Nejc Pozvek

,

Peter Skoberne

,

Marko Slapnik

,

Dušan Škodič

,

Mitja Šorn

,

Jure Tičar

,

Tilen Urbančič

,

Maja Vehar

,

Mitja Velikonja

,

Matija Zorn

,

Anita Zupanc

,

Alenka Župančič

Publishing House

Založba ZRC

Publisher

Co-publisher

Gornjesavski muzej Jesenice

ISBN

978-961-05-0083-4

Year

2018

Language(s)

Specifications

paperback 16,5 × 23,5 cm 357 pages

E-publications

Permalink