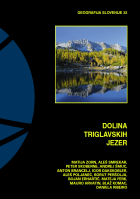 Title:
Authors:
Year:
Compilation:
Keywords:
Language(s):
Description
Leta 1924 je bilo v Dolini Triglavskih jezer vzpostavljeno zavarovano območje. Danes je del osrednjega dela obsežnejšega Triglavskega narodnega parka. Dolini dajejo poseben pečat jezera, izstopa pa tudi po drugih naravnih posebnostih. V okviru nežive narave so v knjigi predstavljene nekatere njene geološke, reliefne in vodne značilnosti, v okviru žive narave pa rastje, s poudarkom na botaničnih značilnostih in gozdu. Knjiga predstavlja tudi človekovo prisotnost in njegov vpliv na videz pokrajine.
In 1924, the Triglav Lakes Valley was designated a protected area, which is today part of the central area of extensive Triglav National Park. The lakes give a special character to the valley, which also stands out for its other natural features. In terms of nonliving nature, this volume presents some of the valley's geological, geomorphological, and hydrological characteristics, and, in terms of living nature, it presents its vegetation, focusing on botanical characteristics and forest. The volume also discusses the human presence and its impact on the appearance of the landscape.
The Triglav Lakes Valley is a high mountain valley nearly ten kilometers long stretching between the Bohinj and Trenta valleys. Its bottom lies between 1,300 and 2,000 m above sea level. Its basic shape depends on the tectonic structure and diverse rock composition. The more detailed terrain features of the Triglav Lakes Valley resulted from karst activity and Pleistocene glacial reshaping. Because of the karstified landscape, the lakes are a unique feature of the valley. Due to irresponsible human activity (e.g., stocking them with fish), the lakes are greatly threatened today. The Triglav Lakes Valley displays a number of special botanical features, some of which have only been discovered recently. Forests have experienced the most changes among the various types of vegetation due to human interference with the natural landscape. A combination of human activities (forestry, Alpine dairy farming, and charcoal burning) has created a cultural landscape. There were three mountain pastures in the Triglav Lakes area before it was officially protected: Jezéra or Pri Jezérih Pasture, Pri Utah Pasture, and Lopučnica Pasture. They were abandoned and are now being increasingly overgrown. However, the nature protection regime that was established allowed mountain hiking to develop in the valley. Two mountain lodges now operate in this area and the valley itself is one of the most popular hiking destinations in the Slovenian part of the Alps.
Publishing House
Založba ZRC
ISBN
978-961-254-811-7
Specifications
hardback • 17 × 24 cm • 140 pages
Price
20,00 EUR (Regular)
15,00 EUR (Club)