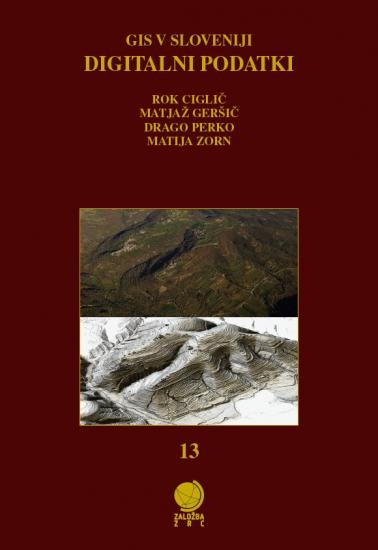 Digitalni podatki.
Edited by: Rok Ciglič, Matjaž Geršič, Drago Perko, Matija Zorn
Publishing House: Založba ZRC
Year: 2016

Digitalni podatki ('Digital Data') is the thirteenth volume in the series GIS v Sloveniji (GIS in Slovenia). The goal of this volume is to present the wide variety of research findings on geographical information systems in Slovenia in recent years. Digital data is one of the main pillars of geographical information systems, and so this volume describes opportunities to put such data to use. Recently lidar scanning technology has increased the precision and diversity of analysis. The volume clearly presents project results and research in areas such as geography, hydrology, protection against natural disasters, archaeology, transport, settlement, remote sensing, and others. Readers will discover new features regarding GIS applicability and learn about interesting findings in these areas.
---
Edited by

Other authors

individual contributions

Blaž Barborič

,

Andrej Beden

,

Jurij Beguš

,

David Bole

,

Rok Cedilnik

,

Rok Ciglič

,

Barbara Čenčur Curk

,

Miha Čekada

,

Mihaela Triglav Čekada

,

Klemen Čotar

,

Dejan Dragan

,

Mojca Kosmatin Fras

,

Petra Gostinčar

,

Dejan Grigillo

,

Mauro Hrvatin

,

Matjaž Ivačič

,

Mojca Janžekovič

,

Julij Jeraj

,

Vesna Dežman Kete

,

Primož Kete

,

Andrej Kobler

,

Žiga Kokalj

,

Boštjan Kop

,

Tomaž Kramberger

,

Edisa Lozić

,

Aleš Marsetič

,

Dragan Matijašić

,

Nika Mesner

,

Matjaž Mikoš

,

Timotej Mišič

,

Boštjan Muri

,

Janez Nared

,

Margarit Nistor

,

Luka Novak

,

Krištof Oštir

,

Peter Pehani

,

Drago Perko

,

Dušan Petrovič

,

Rok Pisek

,

Klemen Prah

,

Marko Premelč

,

Blaž Repe

,

Peter Rogelj

,

Bojan Rupnik

,

Ivan Stanič

,

Gregor Štrubelj

,

Benjamin Štular

,

Tomaž Šturm

,

Tomi Trilar

,

Tatjana Veljanovski

,

Timotej Verbovšek

,

Petra Vrhovnik

,

Vitomir Wolf

,

Gregor Završnik

,

Miha Zorn

,

Matija Zorn

,

Tomaž Žagar

,

Mateja Iršič Žibert

,

Janez Žibert

Publishing House

Založba ZRC

Publisher

ISBN

978-961-254-929-9

Year

2016

Series

Language(s)

Specifications

paperback 16,5 × 23,5 cm 272 pages

E-publications

05. 12. 2019

Permalink